The Minister of Transport, Kwaku Ofori Asiamah, has told passengers to not shut up when the driver of the vehicle they are travelling on is engaged in reckless driving. He warned drivers to also discipline themselves by adhering to the road safety rules and receive the views of passengers in good faith. He cautioned both parties to behave respectfully towards each other in order for better driver-passenger-relations for their common good.
These comments by Ofori Asiamah came at the heels of commissioning a new DVLA Office at Kunka, Obuasi in the Ashanti Region on Friday. One such offices was commissioned in the Volta Region this year.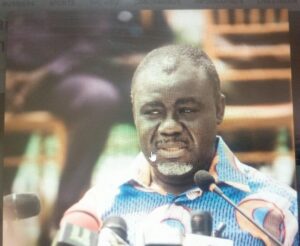 He believes that respecting the rules and being one another's' keeper will get drivers and passengers alike to their destinations, saving property and lives.
He cautioned passengers 'to speak up against driver misbehavior, don't push drivers to misbehave on the roads, and don't use abusive language.'
And to drivers he said 'be patient, obey speed limits, don't drive under the influence of alcohol and drugs, don't drive tired, don't overtake wrongly, and respect other road users'
He said government will ensure road carnages become a thing of the past by keeping up with the changing trends in the road transport industry while addressing some implementation challenges.
The minister directed that the DVLA and NRSA work closely with MTTD in the automation traffic enforcement.
He further called on stakeholders ie 'actors, regulators, enforcement agencies, service providers, drivers, and pedestrians alike to play their respective roles leading to intensifying enforcement activities and coming up with more education and awareness programs.
He commended the DVLA for making huge strides in its service delivery and encouraged the agency to explore cashless payment systems in order to actualize the full benefits of the digital transformation.