Hans Bekx, known in real life as Hans Enyonam Brechum, believes that traditional authentic sounds is what would make him stand out enough to rock shoulders with world class musicians on the international scene.
He's been receiving some wise counsels from ace flutist Dela Botri with whom he has begun a project on one Ewe folk sound 'zigi'. Work on the project resumes as soon as Dela finishes work on his the release of his new album.
Bekx in an exclusive interview with nutis.org mentioned that his 2 decade music journey has been 'rough and tough'. However, support from friends and family coupled with the grace of Mawugã, has brought him thus far. Hans Bekx therefore, remains grateful to the likes of V&V, Sakordie, Edem, Blak Rasta, Sheriffa Gunu, Guru among others who helped him willingly to shine his light.
The Brita Dae hit maker has just released a new single called Beautiful after Egblegedi with Chief One a couple of weeks ago. He hinted that an EP titled 'Keep Smiling' is in the offing.
While advising colleagues to keep pushing, Hans says the only way to attract support is if you have a good product.
He told this site that he has mounted many platforms and the biggest and most impactful so far is the CEANA virtual platform which has widened his scope of network.
Hans Bekx also shared some everyday challenges of a growing artist with us. "Many times I get invited by friends to play shows and I don't get paid for it but that is how to keep sharpening my skills and preparing for the future."
He told this reporter in a telephone conversation that even though it puts pressure on his finances he still considers those acts of sacrifices as a form of investment. "it bothers me financially because people think you can help them because they see you on big stages for shows and if you're not able to assist them they see you as stingy person."
He also intimated that when this happens continuously then recording new tracks or shooting new videos and even branding as a musician becomes a difficulty.
Speaking on the impact that Della Botri has made on his career, Hans Bekx said that he has learnt a lot from the ace musician and now has more implicit insight into music, particularly original and authentic African sounds and music. "daddy has made me to understand that I can create my own original sound even with mouth and not always depend on auto sound to make my music."
Alongside music, Bekx hangs out with some non-profit organizations; Free Inspiration for All and One Village Alliance to train young men and women in the sports of basketball and American football.
Look out for Hans Bekx at the Volta Religion Concert, which comes off on the 6th March and hosted by the See Them boss Dr. Gbekui JJ Gonami at the Kpando Sport Stadium on the 6th of March 2020.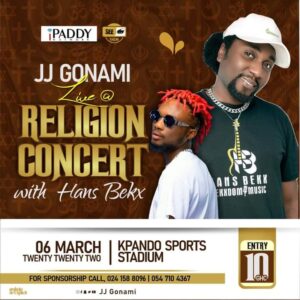 Follow hans Bekx on all social media handles and stream his music on all digital stores.