Chief One's 'Here I Come Ep' is due to be launched on Monday.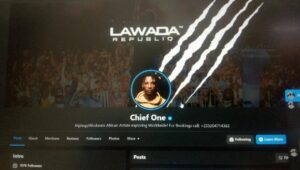 The Ep, which features his hit track Young boy and other amazing danceable tunes by the president of #LawadaRepublique, seeks to give you lyrical orgasms every time you listen to it.
Fall in love with the #Whatistdat Ewe rap genius, makes his own original sounds peculiar to him and projects what is local to his nativity.
Chief One interacted with his fast growing fan base to some on Facebook with some of his tracks.
He showed gratitude to fans from across the globe saying "you people give me love, if they wrote me off you people dey for me".
It is worth noting that Chief One is fast becoming a global art with fans from all over Africa, Europe and so on.
He encouraged other artists wherever they may be especially those from the volta region of Ghana to "prepare for the game before they come out" and before long they "will be loud."
He told the teeming fans about how he was discouraged from employing the Ewe language in his songs but he knew that "Ewe will be bold". "It is a process and Ewe language is almost there."
Refering to himself as the Street, Chief One sees the Volta Region as an ocean of creatives and it is only a matter of time they will be "loud".
It appropriate that the gentleman acknowledged #ElormBeenie, #EdemAgbana, #Edem, #Hairlegbe and #DelaFinn for throwing their heavyweights behind the lawadaRepublique.
Chief One is present on all social media handles.