The Chief Executive Officer of Infinity Den Enterprise and Infinity Stars Hotel at Penyi, Mr. John Kwakuvi Hounlessodji popularly known as Infinity, has commissioned potable water for the people of Tadzi Community in the Ketu North Municipality of the Volta Region. The people are now free from perennial water shortages and its health challenges.

Mr. Kwakuvi Hounlessodji, after handing over the facility, admonished the people to use the water wisely and adopt the culture of maintenance in order for them to enjoy good water for a long time to come.
The people of Tadzi expressed joy at the gift of clean water and some quickly started fetching the water into their various homes while the ceremony was on going.
Torgbui Ashiagbor IV Dusifiagã of Weta Traditional Area appreciated the benevolence of Infinity towards this community and many others within the Volta region.

He said "Actually I am not surprised, Infinity has been helping us for sometime now, when we started the Community Centre Project for the people of Tadzi, Infinity company came in to support us. He supported us in so many ways".
The chief cautioned the people of Tadzi to use the water wisely and told them to allow people from neighboring communities to equally benefit freely from the water.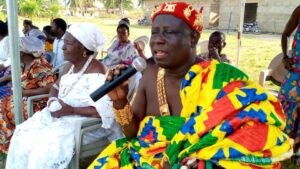 Torgbui Ashiagbor IV – Dusifiagã, Weta
The Youth Secretary of Tadzi Mr. Dzakpa Christian, recounted the difficulty the community went through to get water in the past especially during the harmattan seasons. 'Now we have potable water to make life easy for us.'
He also commended Mr. John Kwakuvi Hounlessodji for the kind gesture.
Mr. Dzakpa Christian promised to ensure the facility is put to good use and properly maintained.
Mr. Kwakuvi Hounlessodji, however assured the people of Tadzi and it's environs to expect more of these corporate social responsibility (CSR) from his company and himself.