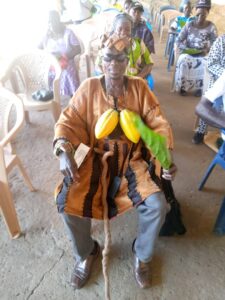 Kpeve-Hohoe Cocoa District Cooperative urged to grow more cocoa. The regional Produce Buying Company has charged cocoa farmers to ensure their beans are well preserved to be approved at the buying centers.
To this end cocoa growers within Kpeve through Tsibu to Peki were encouraged to take advantage of the arable lands to cultivate cocoa in large quantities as used to be in the past before the 1983 bush fires. This was contained in address to participants of the Kpeve-Hohoe Cocoa District Cooperative meeting at Peki.
Farmers were presented with membership certificates in a short ceremony.
Cocoa growing groups making this unit include Peki, Kpeve, Tsibu, Anyensu, Anum, Boso, Toh Kpalime, Tongor, Todome, Adzokoe and Vume.
According to the PBC, it became important to form a cooperative and then unions so cocoa famers in the country would have a united front for seamless and timely access to farm inputs.
The area director of COCOBOD in his address to participants, told farmers to desist from using weed killers and rather use the slahers, prunners and motto blowers to take care of the farms in order to meet growing standards.
Some participants speaking to nutis.org said the farm tools which the COCOBOD has given to them are good because they will protect the soil components from being destroyed by chemicals. They however lamented the about the machinery being inadequate.
The Volta Regional Cocoa Chief Farmer Nana Abass admonished participants to cut down old cocoa trees and plant new ones.
And as is the norm, technical officers and farmhands from COCOBOD will assist in caring for the new trees for two years and handed over to the farm owners.
One participant Mr. Albert Percy Feyi says the meeting has exposed him to new ideas and drawn his attention to the need to take care of his farm by weeding and applying the chemicals on time for greater yield.
Nutifafa Feyi