Parliamentarians yesterday called on the Ghanaian populace to eschew every desire to force Ghanaian children to speak only one Ghanaian language and encourage children to speak their own mother tongue. Collectively, the legislators agree that have one's child speaking impeccable English and unable to speak any Ghanaian language is not anything to be proud of.
This discussion opened when the member of Ketu South Abla Dzifa Gomashie read statement to commemorate the International Mother Tongue Day which fell on 22nd February 2022 to the House.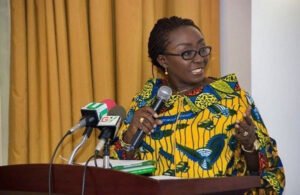 Mamaga Abla Dzifa Gomashie, who chairs the Ewe Commission of the Africa Academy of Languages, laments the situation where parents use English to train their children even at home. "to ask a child just basic questions in his/her mother tongue with the child not being able to answer. Mr. Speaker, should we watch as a generation of Ghanaians lose not just their identity but also their culture, traditional values, and collective memory?" She asks.
Dr. Augustine Tawiah, MP for Bia West, observed that it is unfortunate that colonialism has altered our cultures and as a people we have ourselves added to our woes by despising what is truly ours. He suggested a continuous research to ensure that our mother tongue is key for us to reduce the gap between what is indigenous to the Ghanian and what is foreign and being incorporated. "We don't want to incorporate everything wholesale. Our language should accommodate other nuances from other cultures but how do we do this in such a way that we can incorporate them even in our educational system."
MP for Sawla Tuna Kalba Andrew Dari Chiwitey charged members and all Ghanaians, especially people from his constituency, to speak their local languages with their children at home. "It has become a form of pride for some people to think that once I speak English to my child that tells the class I belong to. Mr. Speaker it is completely wrong. It is time for us to start educating our families. It is time for us to start letting out people know that where we come from, that is where we come from. We didn't choose… and so wherever you find yourself let your identity be know." he appealed to the house.
Kwadaso MP Kingsley Nyarko's believes in using the local language as tool to facilitate easy learning in schools but expressed concerns about the quality, frequency and intensity of the language usage.
Many other members including Samuel Okudzeto of South Tongu, Nelson Dafeamekpor of South Dayi, Moses Anim of Trobu, Kofi Adam of Buem, among others hold the belief that knowing one's native language well, is a foundation to learn other languages and appreciate what is being taught in school and so agree that the Ghanaian languages must be taught in the basic schools. However, in the spirit of oneness they said that our diversity is our strength in unity.
Language is a very important tool for sustainable development. It ensures cultural diversity and intercultural dialogue, strengthens cooperation and achieves quality education for all. Mamaga who herself speaks many Ghanaian languages urged her colleagues and stakeholders "to develop a clear and effective school policy to enhance the understanding of children in our schools".
Mother Language Day, highlights multilingualism to ensure inclusiveness in development agendas in accordance with SDG 4.6, which seeks to ensure that all youth and a substantial proportion of adults, achieve literacy and numeracy."
This years' celebration was themed "Using technology for multilingual learning: Challenges and opportunities".