Tsibu-Awudome
In todays technological world one can live, study and work from any location and still stay connected with the entire universe easily.
Unfortunately, rural Ghana still suffers the challenge of poor, telecommunication network connectivity. One such communities is my own home Tsibu-Awudome in the Ho-West Municipality where residents cannot surf the internet in the comfort of the homes.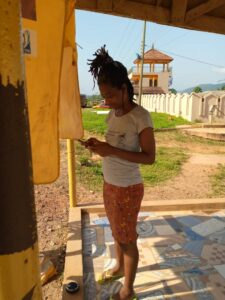 Due to this internet connectivity challenge, a large majority of the youth in particular move to locations which are considered 'hotspots' to connect to the rest of the world on their mobile devices. There are only three such spots in the community.
Tsibu has a basic school, a vocational school, a library as well as a clinic. All of these facilities need internet to provide quality services.
Even though residents are predominantly farmers most use mobile phones. They lament at the constant fluctuation of the mobile network services.
The frustration
In this day and age access to internet is a 'right' in certain jurisdictions and making life easy for businesses, schools and health facilities among others. However, parts of Ghana still suffer unstable mobile networks.
At dusk young men in particular parade the roadside just to catch some mobile signals to make calls or visit Facebook and Whatsapp.
Selorm Danso the Assembly man of the area told nutis.org that "we receive strong signals at Bethel junction, the main bus stop and near the EP Church. It is a challenge because students and teachers are unable to engage in any meaningful research for their studies."
He hinted work has begun to get MTN to plant their mast in order to end this frustration of unstable connection. He called on local stakeholders to cooperate for the mast to be brought in as soon as possible.
Personal experience
I am a journalist. Without stable internet connection nutis.org and social media handles could not be updated in the comfort of my home in Tsibu Awudome. For firsthand experience, I visited one of the three 'network zones' the bus stop, to upload some stories. I was not successful.
The network kept fluctuating and not even a single story was uploaded the whole time I stayed there.
But one of the three mobile money vendors told me that of all the network zones' this is where it is most stable. He said "at this point Vodafone and AirtelTigo work better especially in the evenings."
I perceive that other natives of Tsibu Awudome who are businessmen and women, entertainers and so on would, like me, love to frequent Tsibu for sometime to enjoy the true warmth of family, fresh food, clean air and the serene atmosphere while we work. Unfortunately, the poor connectivity would not let us.
Nutifafa Feyi