Pupils of the New Hope RC School kneel in the sand during lessons. The school has no classrooms, desks and other amenities to make learning attractive. There are no trained teachers but leaders of Bakpa Dzave in the Adidome district through their own efforts, ensure the school is running, regardless of the challenging situation.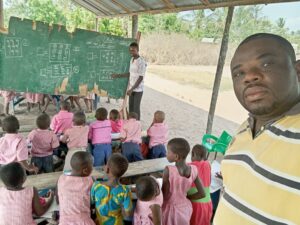 The Bakpa-Dzave community in the Adidome district started the School 9 years ago through a self-help project. The school now has pupils in the kindergarten up to JHS 2. It has 4 SHS graduates as teachers and they happen to be natives of the community. They believe that they must contribute their own quota to the well-being of the younger ones, besides this is their home and only they can make it better now before help comes.
Mr. Delight Akah is secretary to the headman of the community. In a telephone conversation with nutis.org, he commended the pupil teachers currently at post for doing extremely well but was worried about the lack of trained teachers to get the pioneers ready for the next BECE. He told this blog that the community is in touch with the GES and hopes the community school is assigned some professional teachers ahead of BECE next year.
Delight Akah also tells us the community puts resources together to pay the pupil teachers an amount between 70 and 80 Cedis a month. He acknowledges it is woefully inadequate but that is their strength. He emphasized, they explain the spirit and benefits of communality to the young teachers before they take up the job.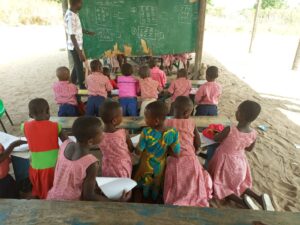 He says their biggest challenges are the lack of school building and furniture for pupils and teachers.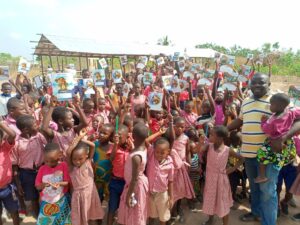 The KG and most of the primary school pupils were recently blessed with some writing materials by the Home of Vision Foundation.
Mr. Delight Akah is appealing to natives of Bakpa-Dzave who live outside the community, as well as NGO's to come to their aid so they can put up classroom structures and buy furniture for effective teaching and learning.
Bakpa Dzave also lacks potable water. Members buy water from neighboring communities for their daily use. According to Mr. Akah, pipes have been laid over six months ago but they are yet to see the water flow.
In order to get water to cook one has to buy a barrel of water at 4 cedis every day. For drinking, they buy sachet water and for washing they fetch water from this contaminated pond.