The Anfoeta traditional council, according to the paramount chief Togbe Kwasi Drah VII, can now operate in independence and not worry about "stepping on anyone's foot." Anfoeta has served under the Asogli Traditional Council for many years and has made some gains as well as some loses. However as a child, Anfoeta is weaned off its mother's and so has attained a Traditional Council status.
Togbe Kwasi Drah VII indicated that, "the Volta Regional House of Chiefs recently came to inspect what we have before asking to be independent and were shocked to see our facilities. This is why we're thankful to our MP for his continues assistance in making this a reality."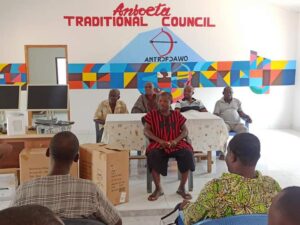 The Ho West MP, Emmanuel Kwasi Bedzrah in order to help the paramaountcy meet the necessary requirement of its new status, led a delegation to donate office equipment to the Paramount Chief of Anfoeta, Togbe Kwasi Drah VII last Sunday.
The items include office desks with swivel chairs, two desktop computers and a printer.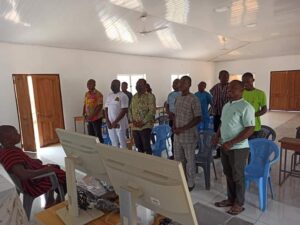 Togbe Kwasi Drah VII commended the MP for being consistent in his development agenda for the area. Mr. Bedzrah was prominent in the construction of a technical school which is currently fully equipped with the necessary facilities in the area.
He however noted with regret that all efforts to get the school absorbed into the Technical and Vocational Education and Training (TVET) Council has proven futile.
The chief expressed his frustration when he said, "this government is already in its 6th year and even after writing tens of letters, we're still waiting for them to officially give us the TVET status. Our facilities here can even be equated to that of Technical Universities so I don't know the difficulty in granting us the status of a senior high technical school for our children to benefit from."
The Member of Parliament for Ho West, Emmanuel Kwasi Bedzrah assured Togbe that he would appeal to the Ministry of Education to expedite action in absorbing the Weto Community Technical School into the GES/TVET Mainstream or re-establish it as a Modern IT hub where computer courses could run.
He commended the Paramount chief, sub-chiefs and people of the Anfoeta Traditional area for their quality leadership that has resulted in absolute peace, which he noted was a prerequisite for development of every community.