Nunya foundation, a non profit organization, will on the 30th of November visit and donate some selected Eʋe books to some 3 basic schools in the Volta region. 
Nunya Foundation seeks to revive and promote the teaching and learning of Eʋegbe in basic schools in the Volta Region.
Their slogan #Eʋevi!! #Gbɔ Agbe Eʋegbe!! seems to be catching on with like minded Eʋeviwo.
The 1st batch of schools to benefit from this project are Agotime Akpokope DA Basic School in the Agotime-Ziope Dist., Amedzikope RC Basic School, Ketu South Municipal and Tsavanya DA Basic School, South Tongu Dist.
Nutis.org interacted with chairman of the foundation Mr. Christian Zogli, a teacher at Kpoeta Adorfe DA Primary School, in the Ho-west municipality?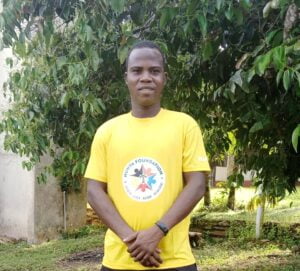 Christian Zogli -Chairman, Nunya Foundation 
Nutis.org: Why this initiative?
Chair: The reason is to give knowledge back to the society.
Nutis.org: How are the schools selected?
Chair: The schools were selected by members of the foundation; a member decides the school we shall go. This means that, if it's your turn as a member, you will choose a school for the foundation to do the donations to in your name. This is how we intend to do it until we visit schools chosen by members of the foundation before we move out.
Nutis.org: Do you select the books or the schools do their own selections?
Chair: The foundation recommends the books and the schools selected from the recommended books.
Nutis.org: How are you funding this project?
Chair: The project is self- funded. Members of the foundation contribute towards this project.
Nutis.org: Is there a mechanism to monitor how the books are used?
Chair: The foundation task members whose schools have benefited to visit the schools and monitor to give feedback to the foundation.
Nutis.org: Who can join the foundation and how? 
Chair: Anybody at all who is ready to give back to society can join us. If you join us, we shall pass through you to donate Eʋe books to  the school you will choose.
Chairman Christian Zogli is calling on all well meaning Eʋeviwo and non Ewes as well to come on board in order to make the project a big one. 
by Nutifafa Feyi