Nunya foundation, habɔbɔ nɔ ɖokuisi aɖe wɔ nunana tɔxe na Dzelukoƒe EP. gɔmedzesuku le Keta nutome. Nunanawo nye Eʋegbegbalẽ vovovo si wo ƒe home ade ₵1,500 kple edzivɔ.
Agbalẽawo ƒe ɖewoe nye Nyaseto 1 & 2, Nunyamɔ 2B, 3B kple 5B, Agbe Nye Nu Si Newɔe, Kesinɔnu Kple Yayra, Nya Zɔzɔ, Tɔkɔ Atɔ̃lia, Do Eʋegbe Mase I kple bubuawo.
Efo Michael Deh amesi wo ga yɔ na be Keta Yevu eye wonye Nunya Foundation hametɔ lae tia suku sia na dɔ sia wɔwɔ.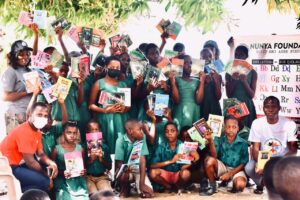 Aƒetɔ Christian Zogli, si nye habɔbɔ la ƒe zimenɔla la ɖe susu si ta woɖo habɔbɔ la gblɔ na nutis.org be yewo kpɔe be gbe la dodo, eŋɔŋlɔ kple exexlẽ le to yim, eye ne ame aɖe ke meɖe afɔ ɖe eŋu o la gbea aku. Susu sia tae yewo ɖoe le Nunya Foundation be, ele be yiwo agbɔ agbe Eʋegbe la, vevietɔ le sukuviwo dome.

 Chairman Christian Zogli
Habɔbɔ la ƒe afɔ si woɖe la do dzidzɔ na sukuviwo kple nufialawo kpakple wɔna la teƒekpɔlawo katã.
Dzelukoƒe EP Gɔmedzesukutatɔ Aƒetɔ William Dumeda gblɔ le wɔna la teƒe be, taflatse, agbale siwo yewo hĩa na Eʋegbesɔsrɔ̃ la ƒe ɖeke me le yewo si o, eyata afɔɖeɖe sia do dzidzɔ na yewo alegbegbe.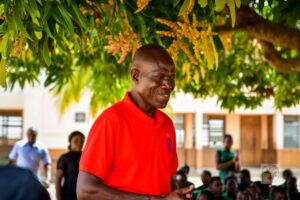 Aƒetɔ William Dumeda – Tatɔ, Dzelukoƒe E.P Gɔmedzesuku
Dumegã ESK Kwau amesi wɔ dɔ kpɔ abe sukutatɔ ene le KETASCO la nɔ wɔna sia teƒe. Efa konyi tso alesi egbeviwo trɔ Eʋegbe la tatu hafi do na zi geɖe la ŋuti vevie. Eƒo abɔta na Nunya Foundation le woƒe agbagba dzedze be yewo agbɔ agbe Eʋegbe la ta eye wodoe ɖe Eʋeviwo katã le aƒe kple gbe sia gbɔ be woado alɔ habɔbɔ la hena dɔ la ƒe takeke.

Nunya Foundation do ŋgɔ wɔ nunana sia ƒomevi na Agotime Akpokɔpe DA Basic School, Agotime – Ziope nutome., Amedzikope RC Basic School, Ketu South nutome, kple Tsavanya DA Basic School, South Tongu nutome.
Nunya Foundation, tɔwo bia be ame sia ame na kpe ɖe yiwo ŋuti hena habɔbɔ la ƒe zɔɖeɖe alebe taɖodzinu si nye be Eʋegbe na nɔ agbe ne megbeviwo la na teŋu ava eme.