The chiefs and people of Kpedze say they have as a matter of urgency resolved to sever ties with the Ho-West District, stop their assembly members from participating in any sitting in the Ho-West district, prevent their people from paying revenue to the Ho-West District Assembly and also ensure that the NPP does not engage in any political activity in any part of Kpedze.
This is as a result of the assembly's decision to site the District Hospital at Dzolokpuita, contrary to the collective agenda set by the people of Ho-West to distribute development projects equitably across the district.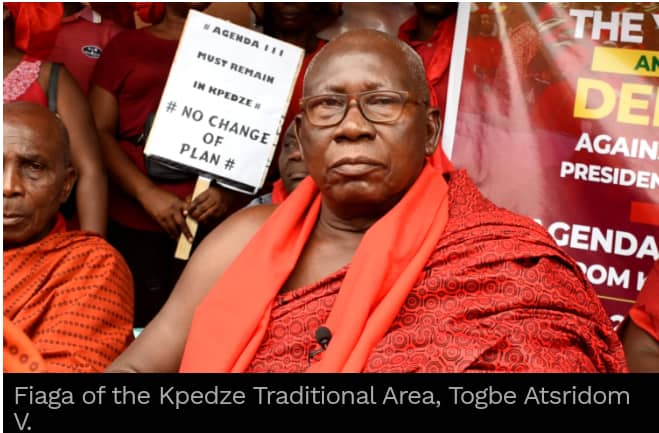 A statement signed by the assemblyman for Kpedze Awlime/Todze Electoral Area Kasim Osman Adamu suggests that the people of Kpedze feel insulted by government ignoring the Ho West Congress of Paramount Chiefs convention on the districts development agenda.
The statement reads 'we the chiefs, elders, and most importantly the youth, consider the relocation of the district hospital to Dzolokpuita to be very unfair and an insult to us, given the negative impact of poor healthcare delivery in Kpedze communities and its environs.'
It also states the peoples' displeasure towards the interim president of the Paramount chiefs of the area Osie Adzatekpor. "…we are deeply disappointed in the powers that behold the ruling New Patriotic Party and the Ho-West Congress of Paramount chiefs and Queen mothers, led by interim president Osie Adzatekpor." It said
The chiefs and people of Kpedze held a protest against the siting of the District Hospital in Dzolokpuita in the Ho-West District a couple of weeks ago but it seems their demonstration did not yield any results in their favor.
According to the Statement, the people of Kpedze have therefore resolved to as a matter of urgency to do the ff:
" 1. Dissociate ourselves from the Ho-West District
Our Assembly members shall not participate in any sitting in the Ho-West district
No revenue collector from Ho-West District Assembly shall be welcomed to Kpedze henceforth.